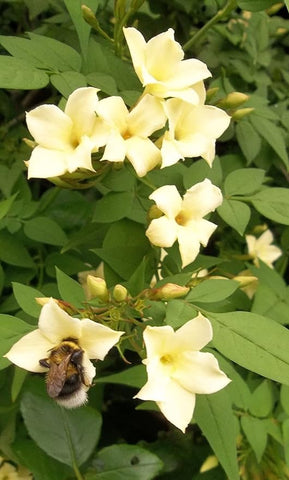 Jasminum officinale 'Clotted Cream' 10 litre Eco-loop pots 4-5ft tall plants
Jasminum officinale 'Clotted Cream'
Indulge your senses with Jasminum officinale 'Clotted Cream'. This enchanting jasmine's large summer flowers fill up the air with a sweet, honey-like fragrance and its creamy white petals will capture your gaze. Flowers with a hint of pink when in bud.
Its dark green leaves and glossy deciduous foliage(evergreen in mild areas) make it a great addition to any garden wall of fence.
This climbing shrub is hardy and fast-growing, reaching heights up to 2.5m.
Prefers a south or west facing sunny spot.
Get 10% OFF with MIX & MATCH. Order 2 or more selected plants and receive your discount at Checkout. Only available at WorldGardenPlants.com