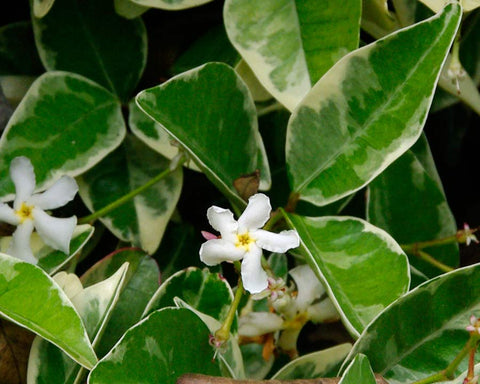 Scented Variegated Star Evergreen Jasmine Climber. Large 6ft plants on wooden fan trellis.
Trachleospermum jasminoides Variegatum.
Also known as Rhyncospermum is a vigorous medium-sized evergreen twining woody climber with glossy dark green cream variegated, oval leaves 5-8cm in length and often turning deep red tints in winter; clusters of very fragrant white flowers 2.5cm in width become cream with age.
Aspect: South facing. Sheltered.
Flowers: White in Summer.
Foliage: Variegated cream green in Winter may have red tints. Evergreen
Fruits: Green in Autumn.
Fragrance: Flower.
Suggested Plant Uses: City / Courtyard Gardens, Patio / Container Plants or Wall-side Borders.
Plants supplied: 180cm/6ft plants in 15 Litre large black growers pots on 6ft green wooden fan trellis.