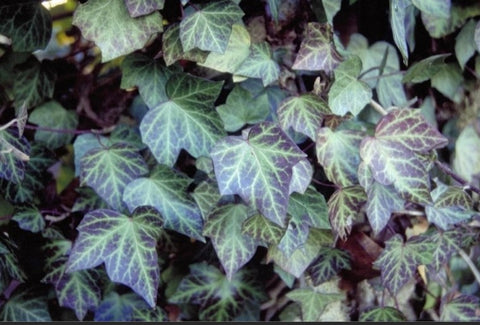 Woerner Ivy Autumn colour 7.5 Litre pots 130-140cm
Hedera helix 'Woerner'
is a self-clinging evergreen large climber with bluntly lobed, grey-green shiny leaves, with lighter coloured veins, that turn purple in winter.
Hedera's are evergreen climbing shrubs clinging by aerial roots. Clusters of small yellow-green flowers are followed by usually black berries.
Plant type: Climber / Wall Shrub. Habit: Climbing. UK Hardy.
Flower: Green and Yellow in Autumn Foliage: Dark Green with red tinges after frosty weather in Autumn to Spring. Evergreen.
Fruit: Black in Winter
Size: Ultimate height: <4 metres
Ultimate spread: >3 metres, Time to ultimate height 5-10 years.
Sunlight: Full sun to Part shade.
Aspect: South-facing, West-facing, North-facing or East-facing Sheltered. Provide shelter from cold drying winds.
Cultivation: Grows best in fertile, humus-rich, alkaline soil but will tolerate acidic soils.
Soil: Moist but well-drained or Well-drained, Acid, Alkaline or Neutral, Chalk, Clay, Sand or Loam.
Suggested planting locations and garden types: Banks and Slopes, City / Courtyard Gardens, Cottage / Informal Garden, Flower borders and beds, Ground Cover, Low Maintenance or Wall-side Borders.
Get 10% OFF with MIX & MATCH. Order 2 or more selected plants and receive your discount at Checkout. Only available at WorldGardenPlants.com